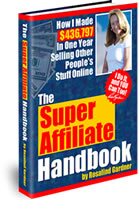 Known as the 'bible' of Affiliate Marketing, Rosalind Gardner's Super Affiliate Handbook is a MUST-READ for anyone who wants to become an affiliate marketer.
In a style that is friendly and humorous, the Super Affiliate Handbook is peppered with real examples of what Rosalind did to become one of the most recognizable Super Affiliates in the world. And she doesn't just tell you what she did right — she exposes the mistakes she made as well — to help you avoid potential problems.
Exceptionally well written, Super Affiliate Handbook covers absolutely everything you need to know about making money as an affiliate marketer.
There are a lot of learning materials available to anyone wanting to learn about Internet Marketing and more specifically, Affiliate Marketing.  It can be overwhelming. How do you sort out the good from the bad?  Well, take it from me, because I have experienced both.  (Trust me, you don't want to "learn" from the wrong people.  Anyone can claim to have the best program… don't get roped in.)  Learn from my mistakes and follow true leaders in the field.
Rosalind Gardner has a fantastic reputation as a Super Affiliate and a track record to prove it.  I HIGHLY Recommended it.